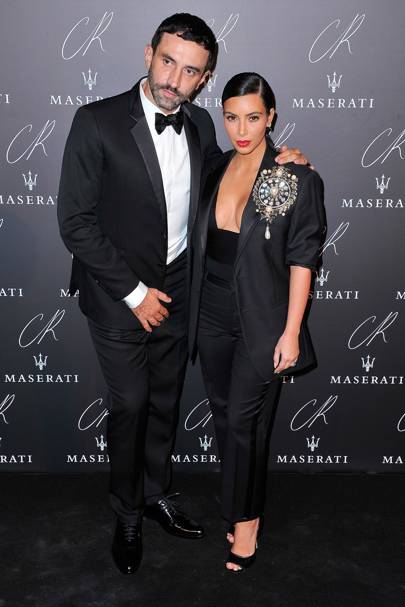 RICCARDO TISCI has left his role at Givenchy after 12 years at the helm. His departure was confirmed today by the house, who told WWD that his final collections have already been shown – during menswear and couture weeks in Paris.
"The chapter Riccardo Tisci has written with the house of Givenchy over the last 12 years represents an incredible vision to sustain its continuous success, and I would like to warmly thank him for his core contribution to the house's development," Bernard Arnault, chairman and chief executive officer of Givenchy owner LVMH, said today.
Despite the seemingly hasty exit – which will not see him take a bow at the ready-to-wear shows next month, and the forthcoming autumn/winter 2017 collection be completed by the studio team – the parting has been described as "mutual and amicable" and was effective on the expiry of his contract on January 31. (Vogue)
Last night, Raf Simons made his New York Fashion Week Men's debut with a show that paid homage to the Big Apple – the city he now calls home, thanks to his new role as chief creative officer of Calvin Klein.
Simons was in the middle of designing this collection when Donald Trump was elected President of the US. Backstage he said that he couldn't help but speak up and bring a "kind of energy" that stands against the intolerance and hate the new POTUS embodies.
His cast donned garments emblazoned with slogans such as "YOUTH PROJECT", "OUT OF THIS NIGHTMARE" and "I ❤️ NY", along with droopy sweaters, woollen arm warmers and belts made from duct tape – things that seemed to hint at the notion of security and protection. At the same time, his models wore necklaces that looked almost like rosary beads. (Dazed Digital)
When Ralph Lauren announced in September 2015 he was stepping down from his company and handing the reigns to former Old Navy and H&M veteran Stefan Larsson, nobody foresaw the mutual love affair would fizzle out so soon.
At the time Larsson was tasked with honing a brand stretched by profligate licensing agreements and more polo-logo'd merchandise than is considered respectably chic.
(Fashion United)