London – Paris Fashion Week, often seen as the pinnacle of the global fashion week has come to an end. Leading fashion houses ranging from Dior
to Louis Vuitton presented their vision for Autumn/Winter 2017-2018, simultaneously and perhaps even unwittingly setting a number of trends for the next season.
FashionUnited shares a number of highlights and main points to take away from Paris Fashion Week AW17.
Louis Vuitton at the Louvre
Models sailed down a runway created between 18th-century marble sculptures from Cour Marly in the Louvre at Louis Vuitton Paris Fashion Week show. For its upcoming collection, creative director at Louis Vuitton, Nicolas Ghesquière, experimented with contrast and mixtures by combining different textures, patterns, and silhouettes. The resulting collection was a mishmash of styles thrown together, such as a tough biker jacket with white detailing paired with rather feminine high-waisted, belted skirt. Contrasting patterns, styles and textures were also spotted on the catwalks in New York, London and even Milan, as more and more designers turn their backs on the notion of trends, creating a new trend at the same time – the death of trends. (Fashion United, March 2017)
SMALL but fashionably f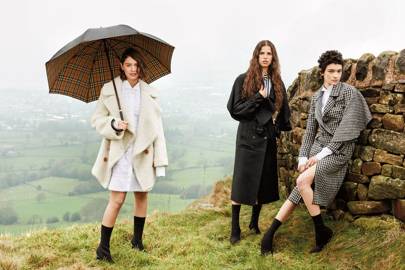 ormed, the British Isles produce some of the world's most creative and inspiring design talent and so for the April issue of Vogue, on newsstands tomorrow, we have namechecked our brightest, biggest and finest.
From superbrands to high-street heroes, the establishments to the newcomers, the craft champions to the digital dynamos (and that's not forgetting the revivalists, the colourists, and the homespun), the list has been broken down into 17 comprehensive categories and comprises the 100 most important brands to note at a time when the question of British identity is seldom out of the headlines.
"To make Brexit work in any way for this country, one of the most important targets will be to get good trade deals for Britain," said editor-in-chief Alexandra Shulman. "In recent years, fashion has been one of the industries that has set its sights on the bigger, international picture, and it is now a truly global business that should not have to shift into reverse and become focused on only the home market. It has long been thought that fashion can only benefit from the rich mix that different nationalities bring to the table. But that is not to diminish the great fashion stories that this country has to offer, both well-known and under the popular radar." (Vogue, March 2017)
(CNN) Modest dressing is a global cultural movement on the rise.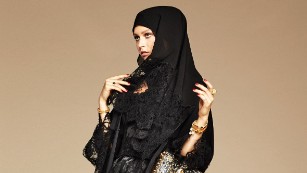 A search of the word modest on Instagram opens a treasure trove of evidence. Sensitive layering, long silhouettes, raised necklines — so far, over half a million people have hashtagged the term modest fashion below their photos, and multiple spin-offs (modest dressing, modesty movement, modest style) are widely in use.
At a glance, modest dressing appears to refer to a trend seen predominantly among young Muslims, though on closer inspection the movement includes women of many different faiths, and sometimes has nothing to do with religion at all.
Trend analysts have dubbed what they interpret as a new wave of feminism the "pluri-empowerment" factor, says Iza Dezon, a trend forecaster at Peclers Paris.
(CNN, March 2017)
Pete Benck's Instagram account wasn'
t always all business. When he first started posting on the photo-sharing app, he shared the usual candids, selfies and personal inspiration. Aside from the occasional event flyer or shop-window shot, there was little to suggest that he owned a vintage clothing store in Madison, Wisconsin, called the Good Style Shop. When Benck started noticing that vintage shops in New York and Los Angeles were using Instagram as a free e-commerce and promotional tool, he quickly "industrialised" his own shop's account, complete with a paid online content producer. Now, six years after Benck bought the struggling store for $11,000, business finally is booming. "My Instagram account became a mouthpiece — a megaphone, really — for the shop," Benck says. "Like, 'Hey, we exist!'"
At a time when established mall-based retailers like J.Crew and Abercrombie & Fitch suffer from declining sales, the used/resale apparel market is growing. According to a 2016 report from the online resale giant ThredUP, high-quality resale is one of the fastest-growing sectors in retail; the market is expected to grow from $14 billion in 2015 to $25 billion in 2025. (Ozy, March 2017)